Prepare amazing meals from local ingredients, delivered in near zero-waste packaging.
Fresh, organically grown, nutritious and sustainable food for all.
Add nutrition, taste and convenience to your life, while giving your carbon footprint, grocery trips and wallet a break.
Pick a Plan that works for you:
A sustainable way to nutrition and flavor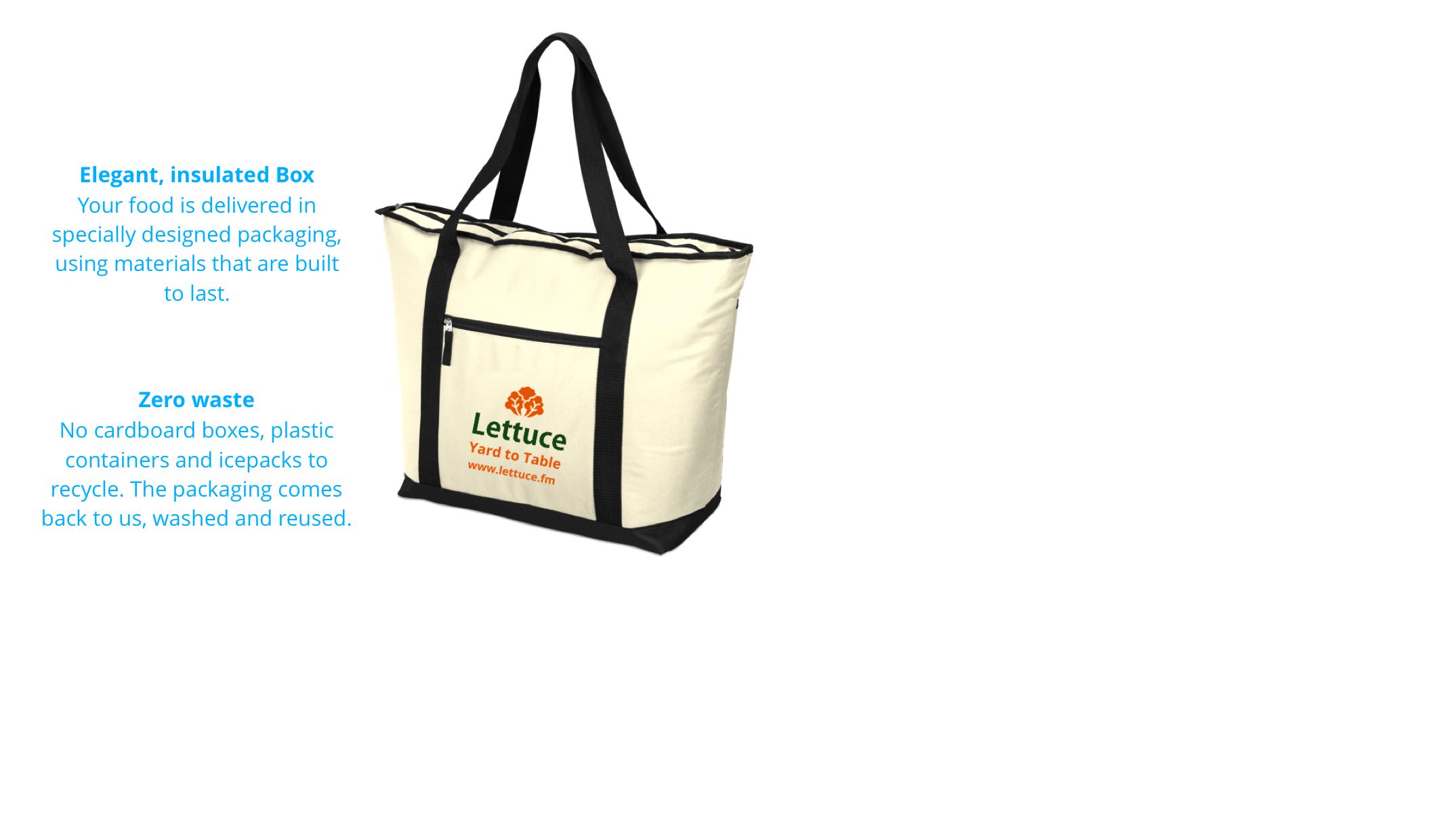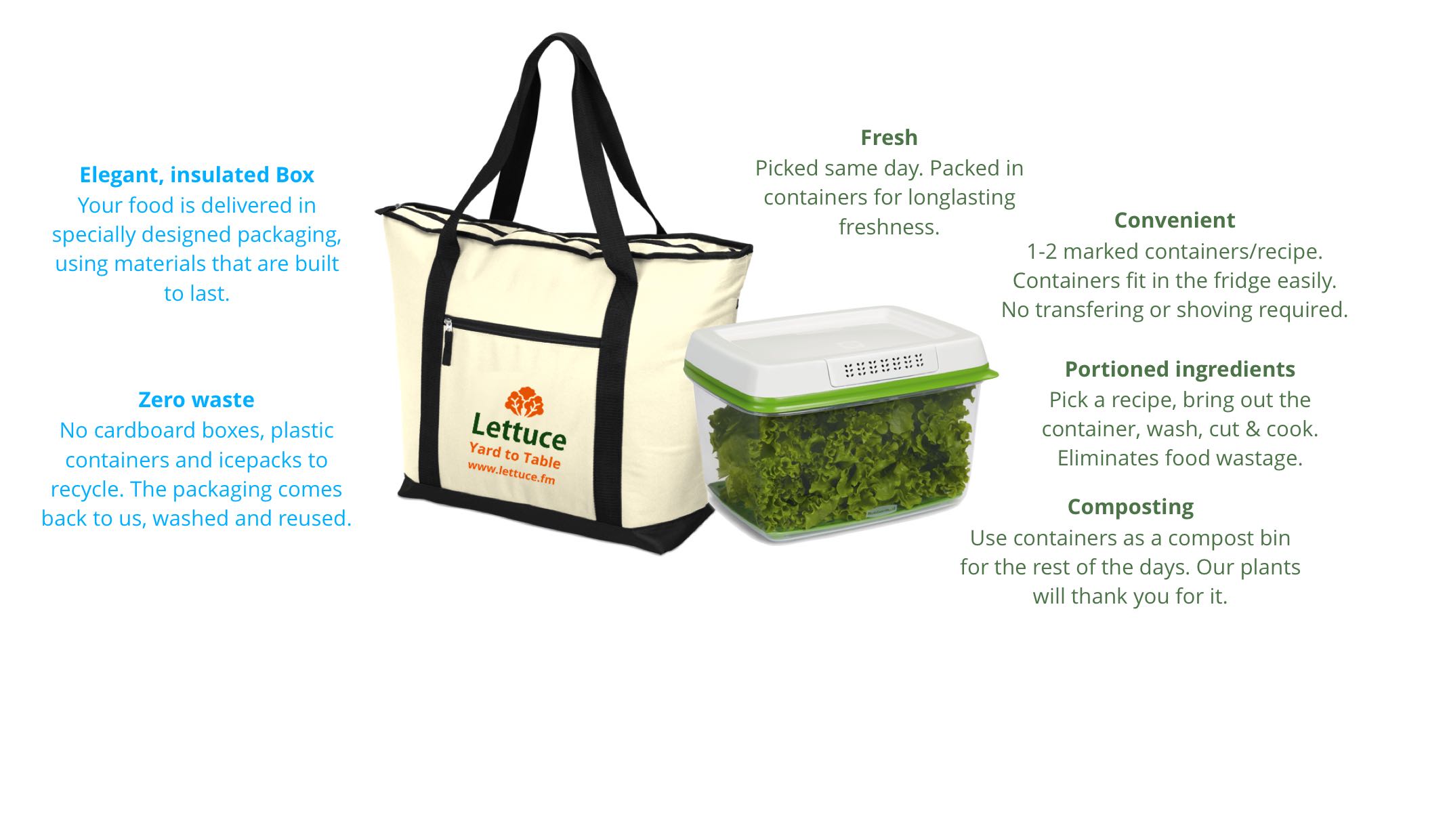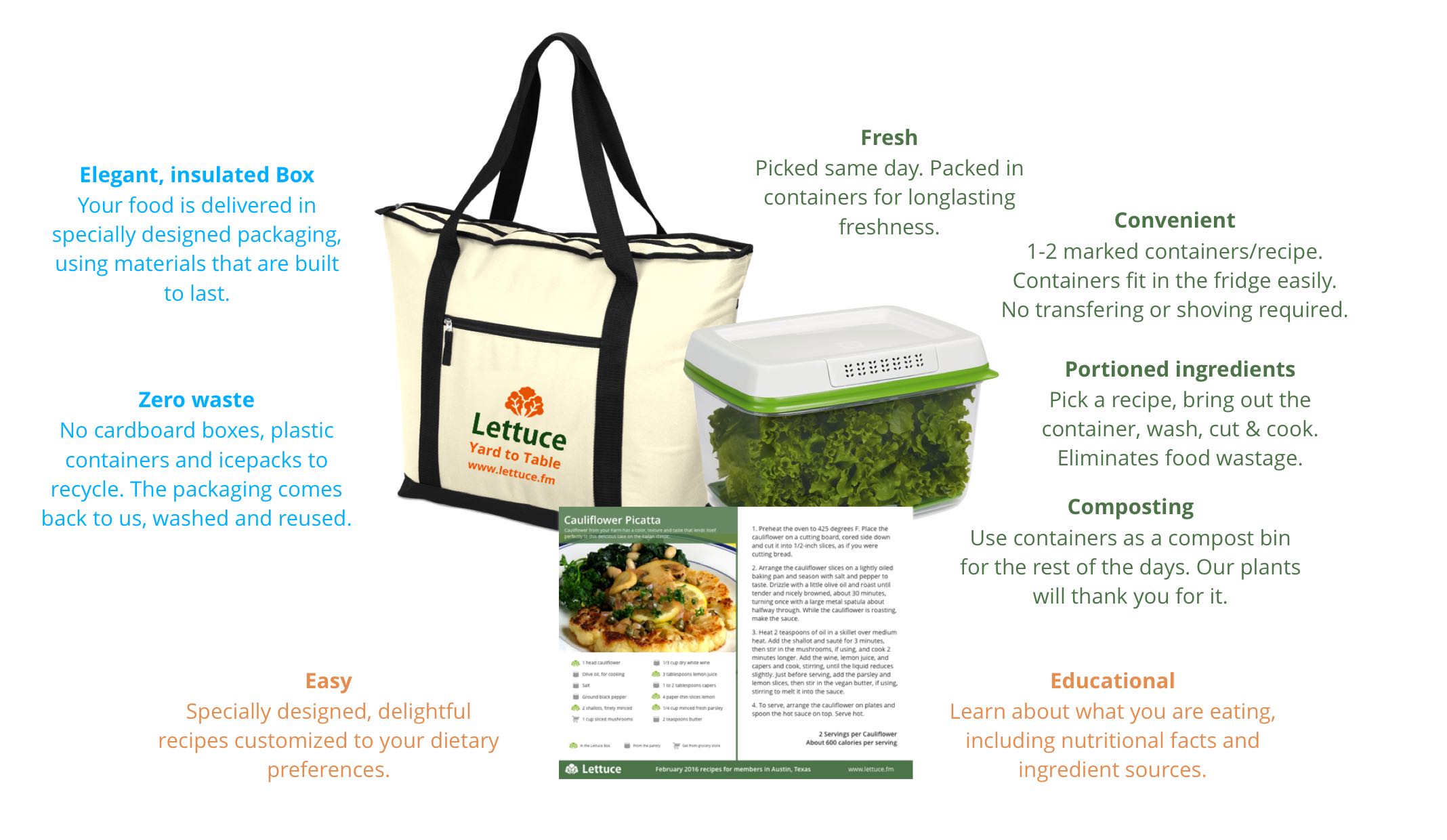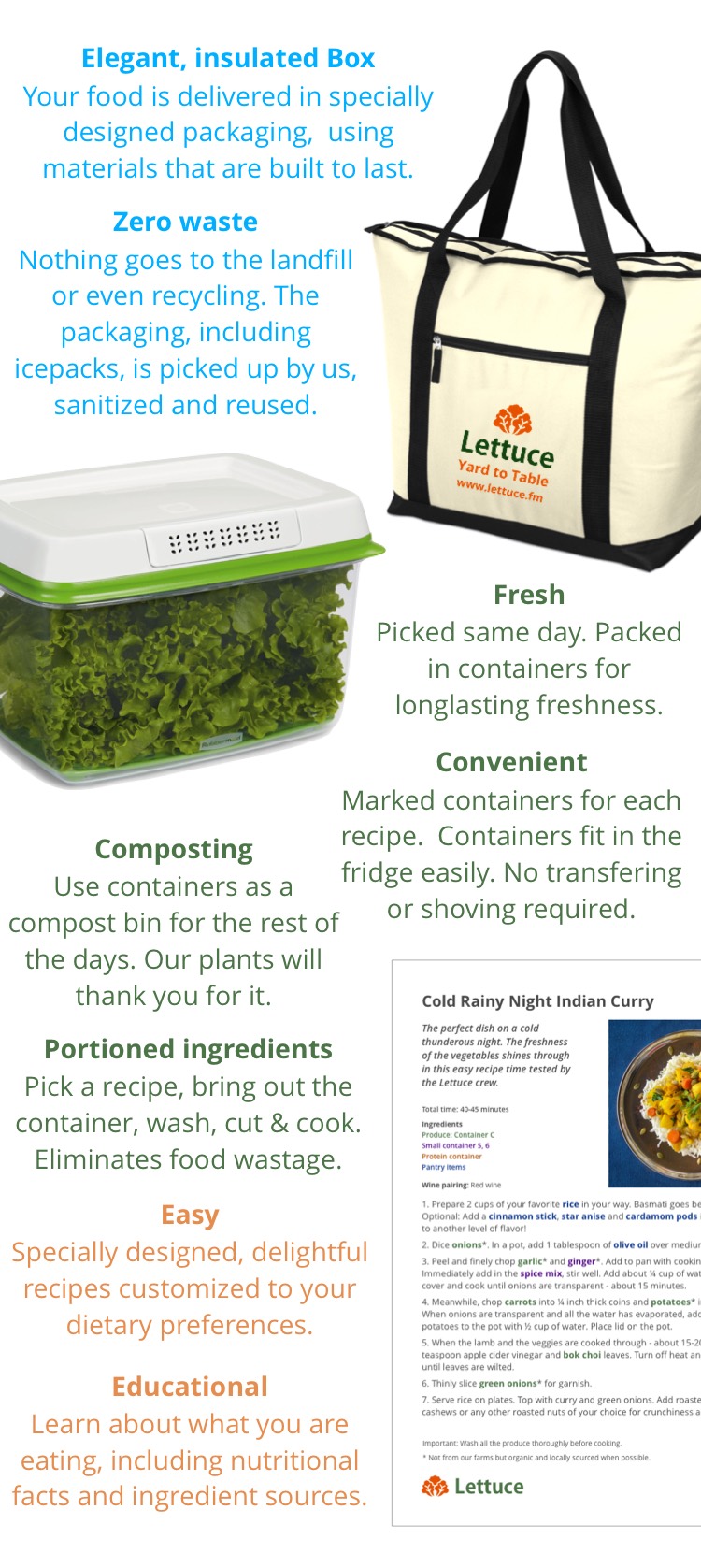 Flexibility + Quality
Flexible Plans:
You can switch between plans, and skip deliveries for any week(s) through your online Lettuce account. No minimums.
Delivery days:
We currently deliver on Saturdays and Mondays. Coming soon: Deliveries all days of the week!
No delivery fee:
We deliver right to your door, at no cost.
Communications:
Subscribers receive an email every Monday describing the recipes and ingredients included in the deliveries for the next week. It will also include a shopping list for pantry items such as oil, butter, salt, etc. you will need to cook the meals.
You will receive additional notifications with everything you need to know at every step of the way. You can always write to us at help@lettuce.fm anytime with questions or changes you'd like to make.
High standards:
We source the freshest, most humanely raised, local and sustainable animal products - details of which will be included with each recipe.
Recipes: Delicious, yet easy
Each recipe and its card is carefully crafted by our experienced chefs based on seasons, ease of preparation, nutrition and taste. 
The kits include delicious sauces and spices we make from scratch.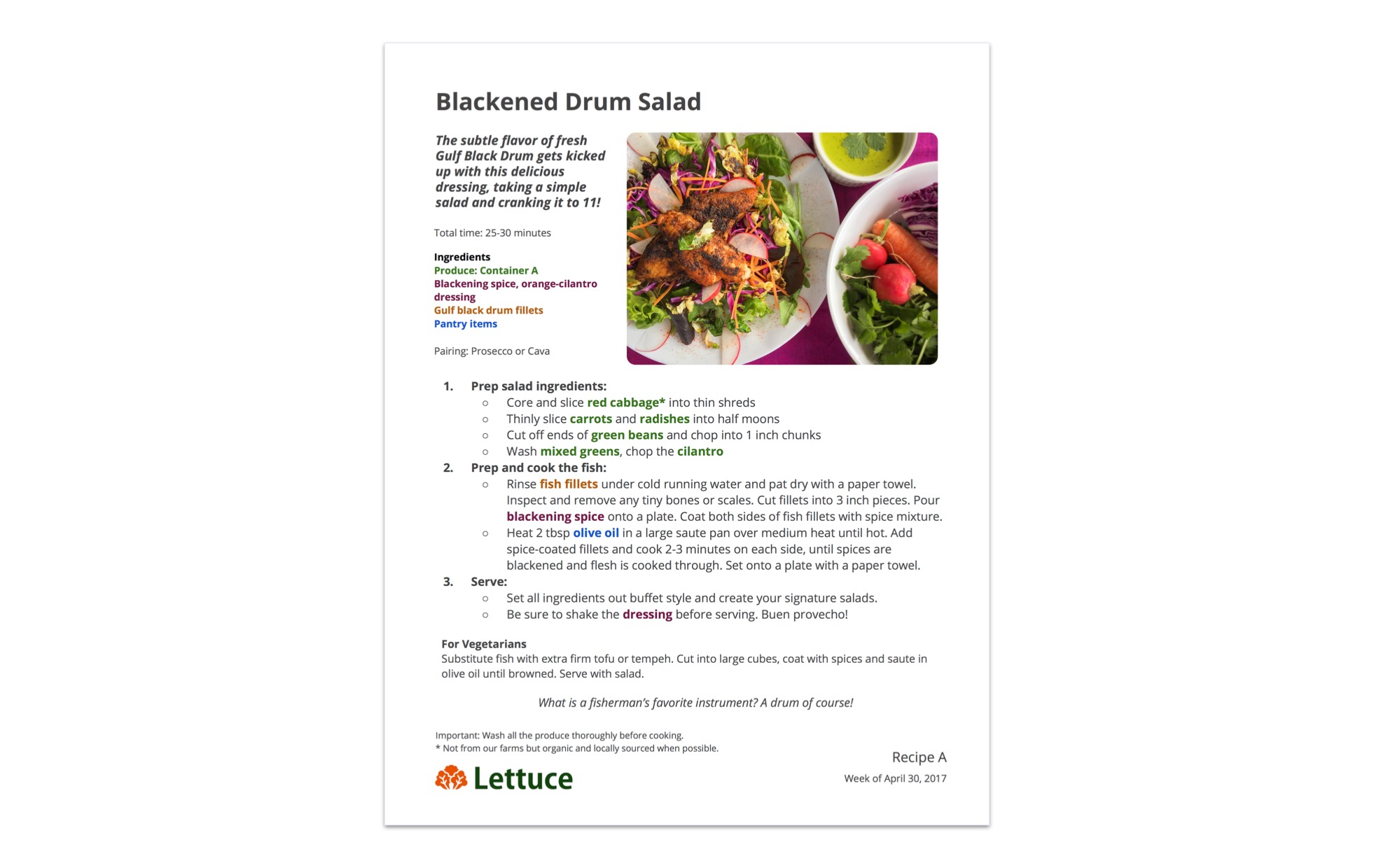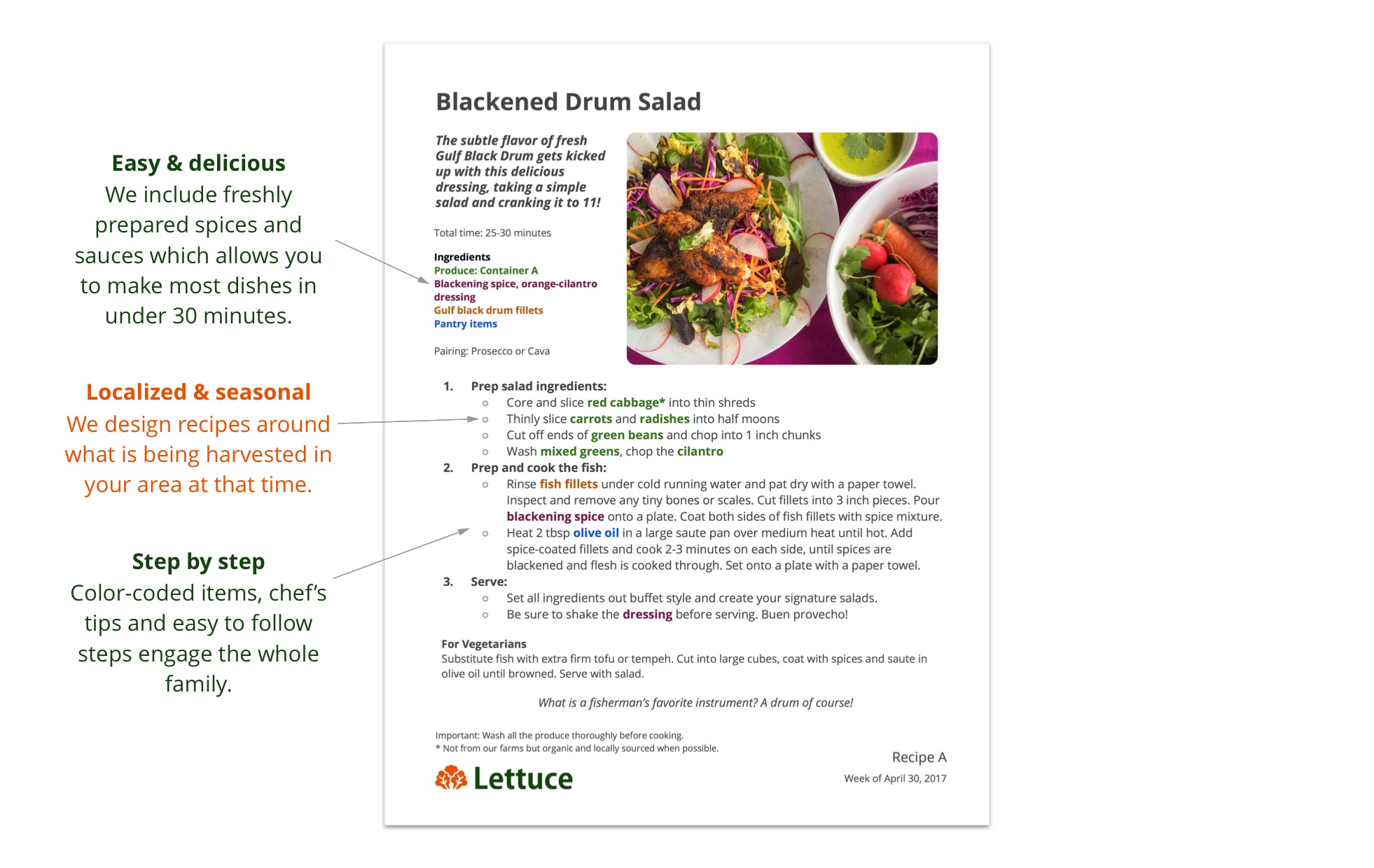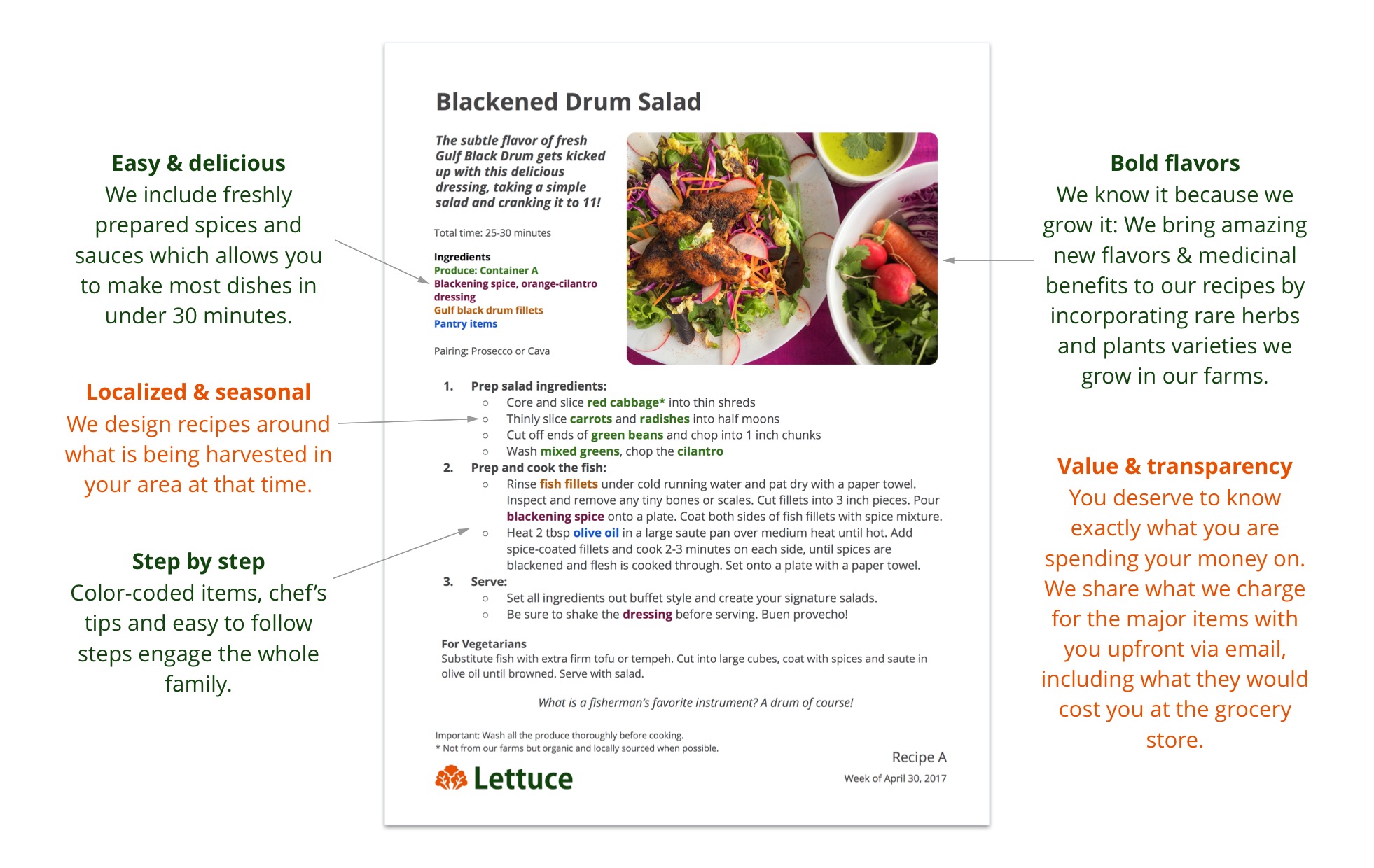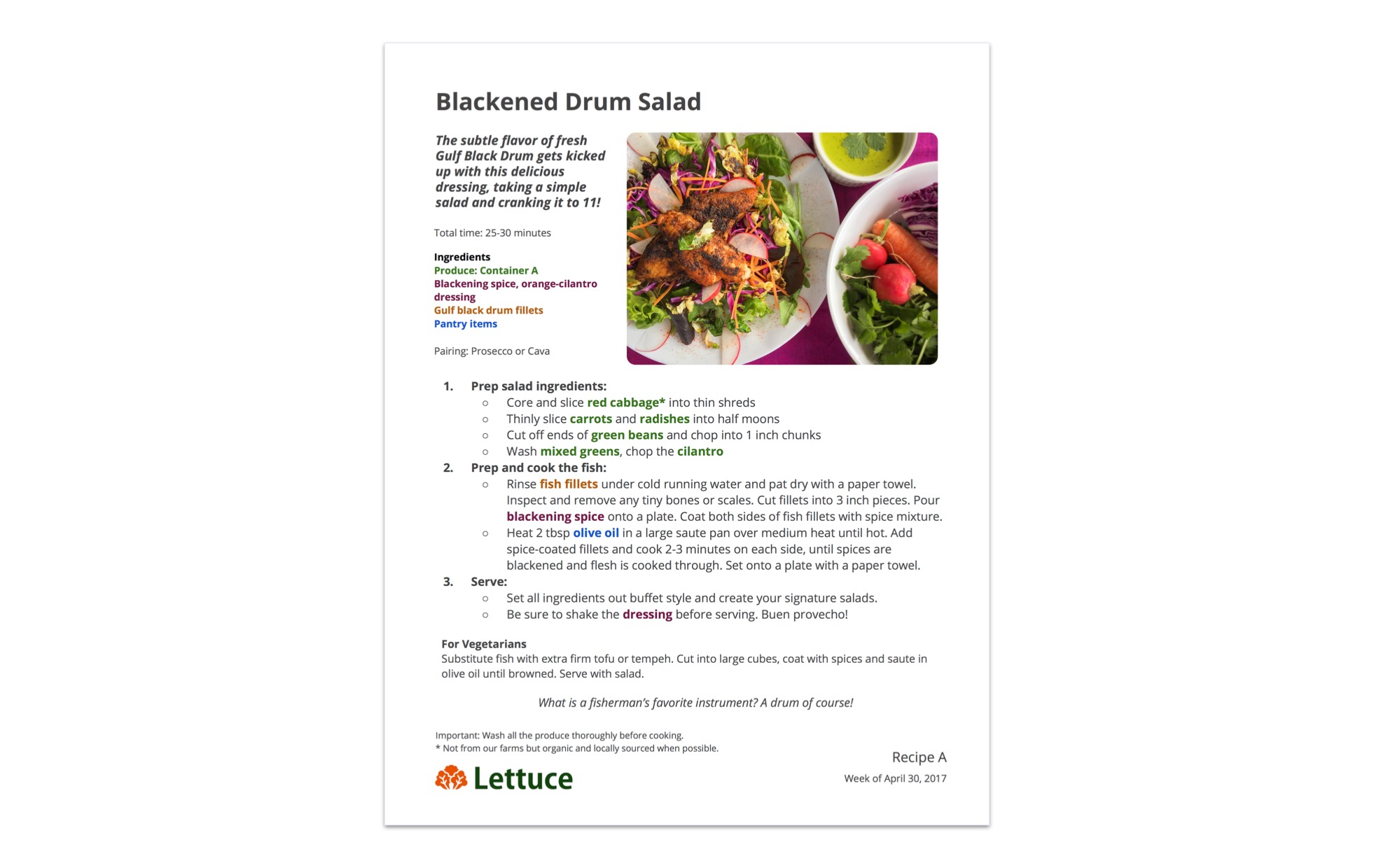 For those nights...
Time crunched evenings should not mean sacrificing freshness, nutrition and taste.
For main recipes that may be a tad complex, we include 'quick 'n easy' alternatives - the same awesome ingredients and bold flavors - ready in 15-20 minutes or less.   
Here are a couple of examples: 
'Local, fresh & delicious? Must not be affordable!'
Quite the opposite in fact. 


Composting, built-in
Contribute, effortlessly
Use our empty containers as compost bins for the rest of the week. All that rich organic material comes back to us when we pick up the Bag, gets composted in our facilities, and then goes into our Farms as fertilizer. A perfect cycle that results in less going into the landfill, nutrient-dense produce and low prices for you.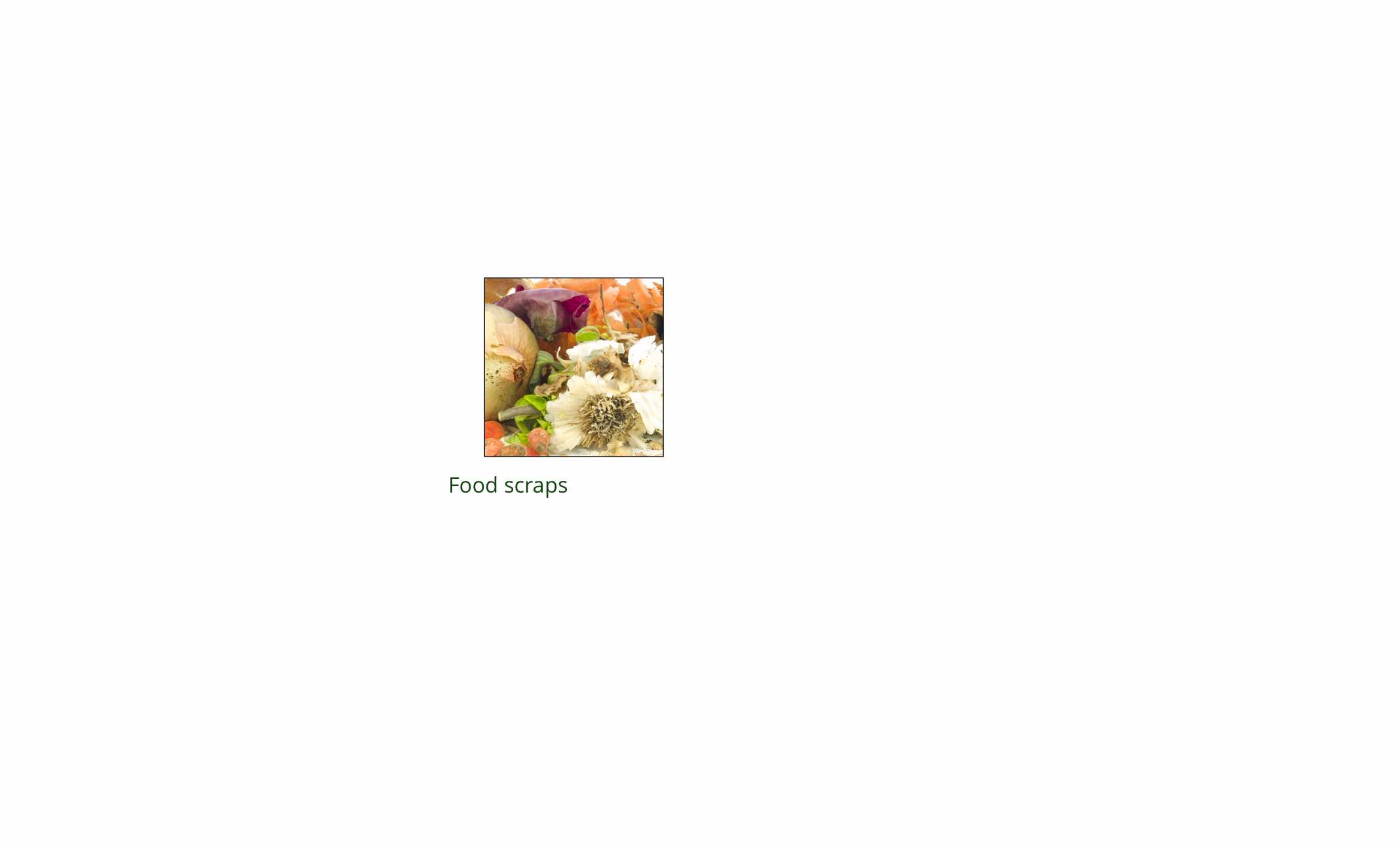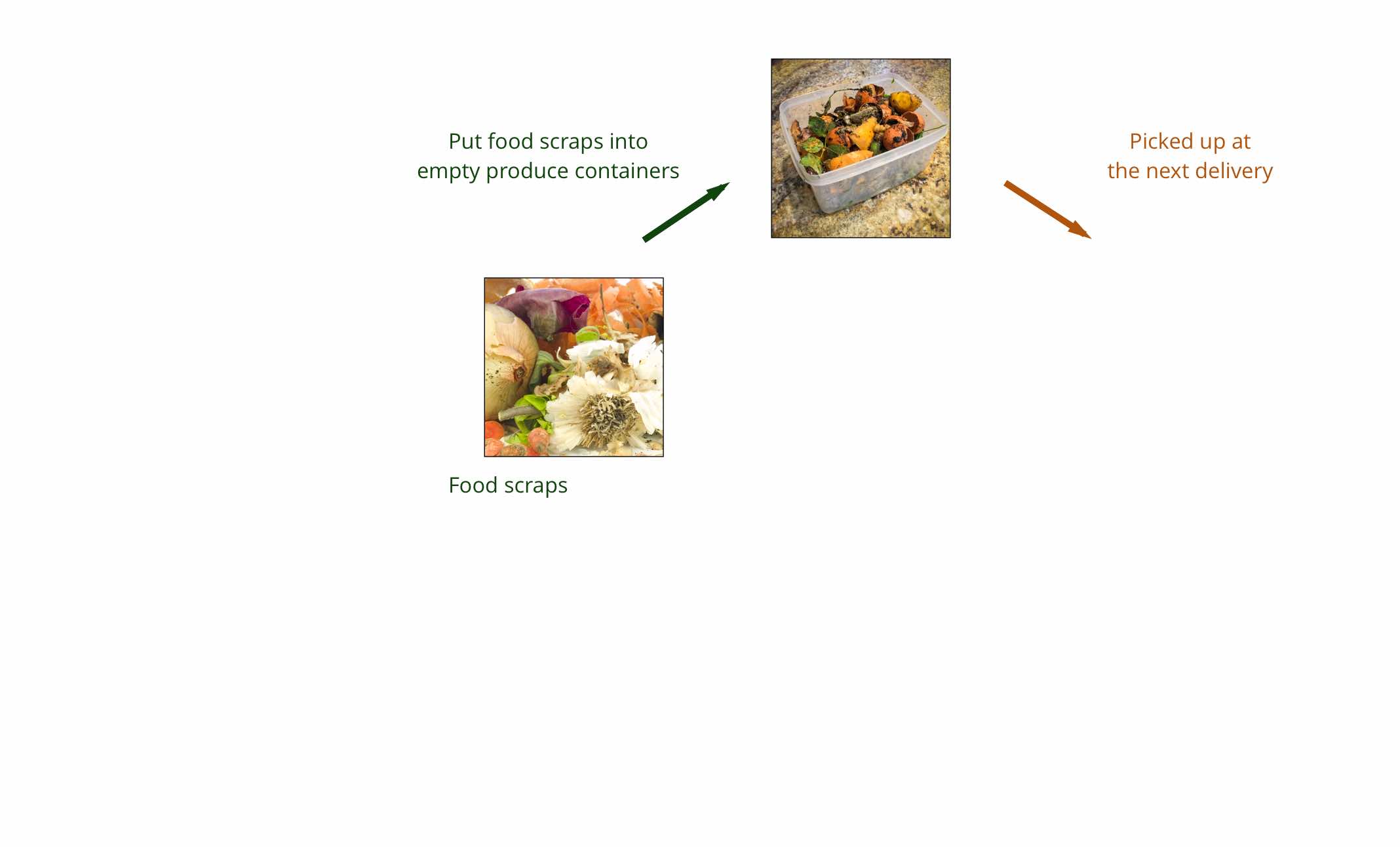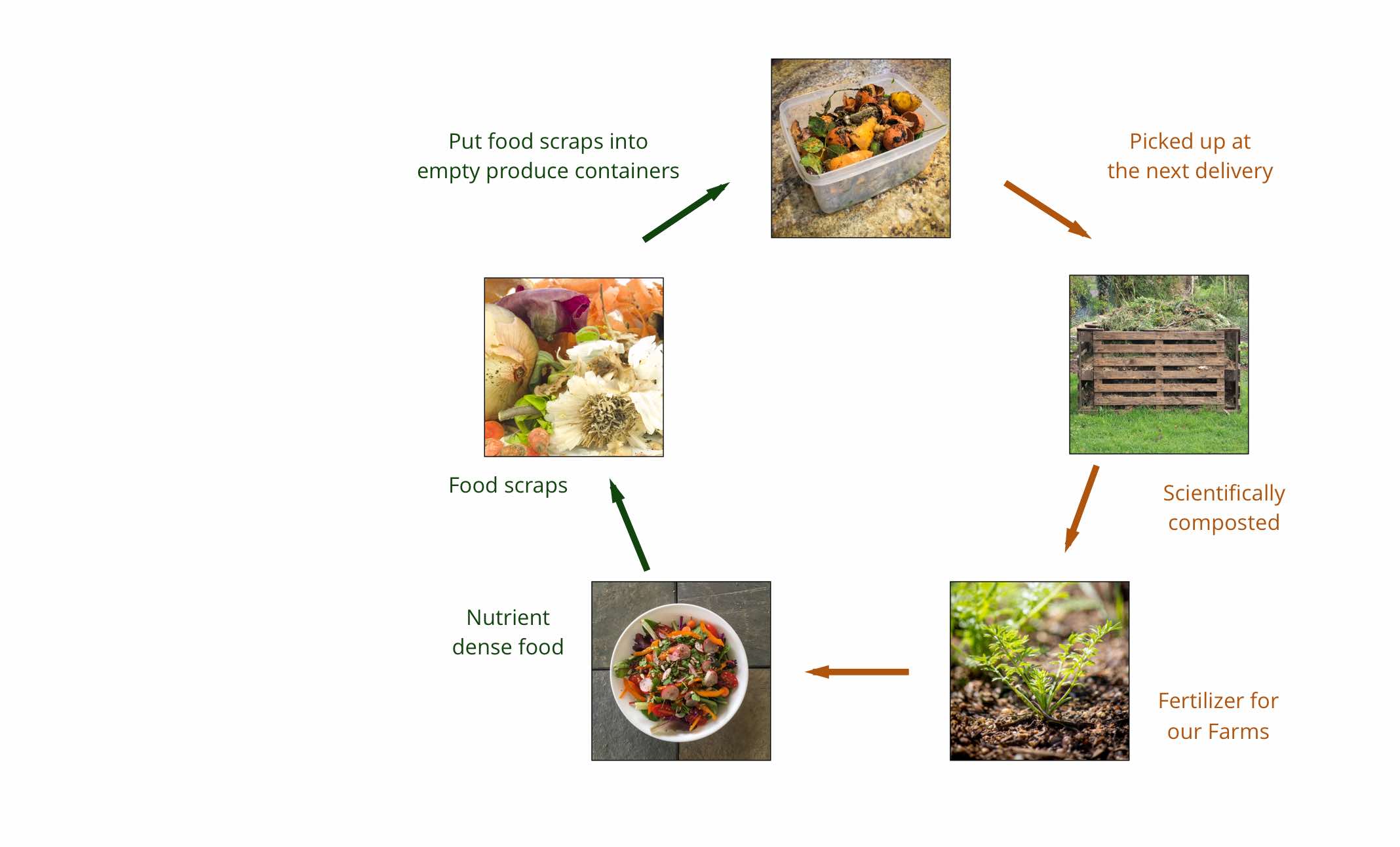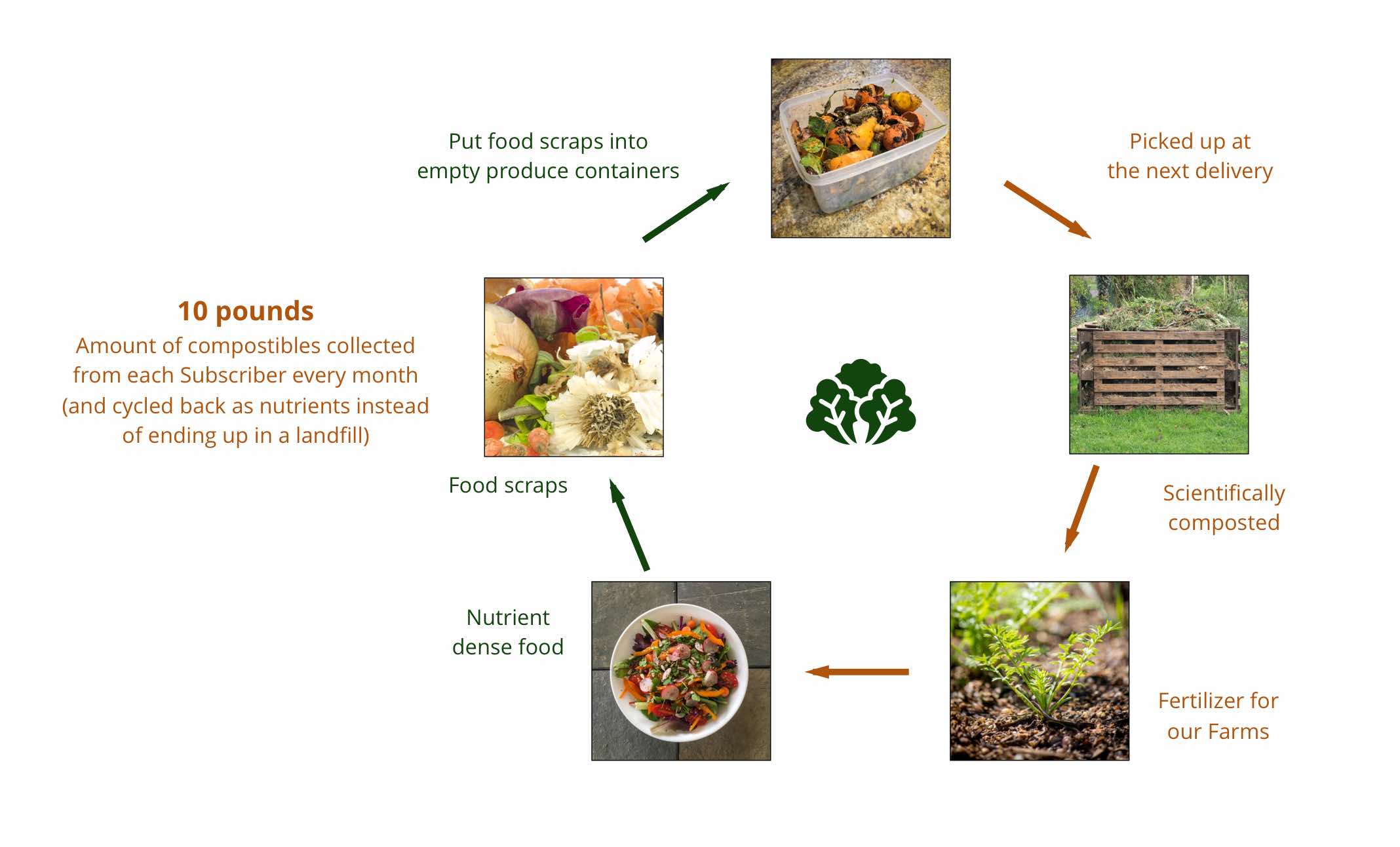 What Lettuce subscribers are saying
"Lettuce made cooking fun again for me. No grocery shopping, fantastic recipes and I am eating way healthier than before. I'm in love..."
– Angela Pires
"Lettuce has taken the stress out of grocery shopping. They make it so easy to eat healthy. I've loved branching out from my normal cooking comfort zone..."
– Skylar Moran
We are eating more healthful and WAY more delicious meals than I would be making on my own. Their sauces and spice mixtures make you feel like a good cook...
– Spring Castillo
I totally love not having to think about what we'll make for dinner. Just grab a recipe - all the ingredients are in the matching container, then have fun learning about new ways to eat healthy.
– Susanne Harm
Lettuce grow food, not just grass
Experience the joys of growing your own food - without the head scratching, chasing 'experts' at the local garden center and schlepping the wrong materials.
Raves about Lettuce Urban Farms
We love that our kids can see food growing and have the opportunity to pick and eat what we want.
– Mellisa Miller
Grow your salad and veggies in your own yard. Don't know how? Lettuce will help as much or as little as needed. It's a win/win!
– Karen Roberts
The food system today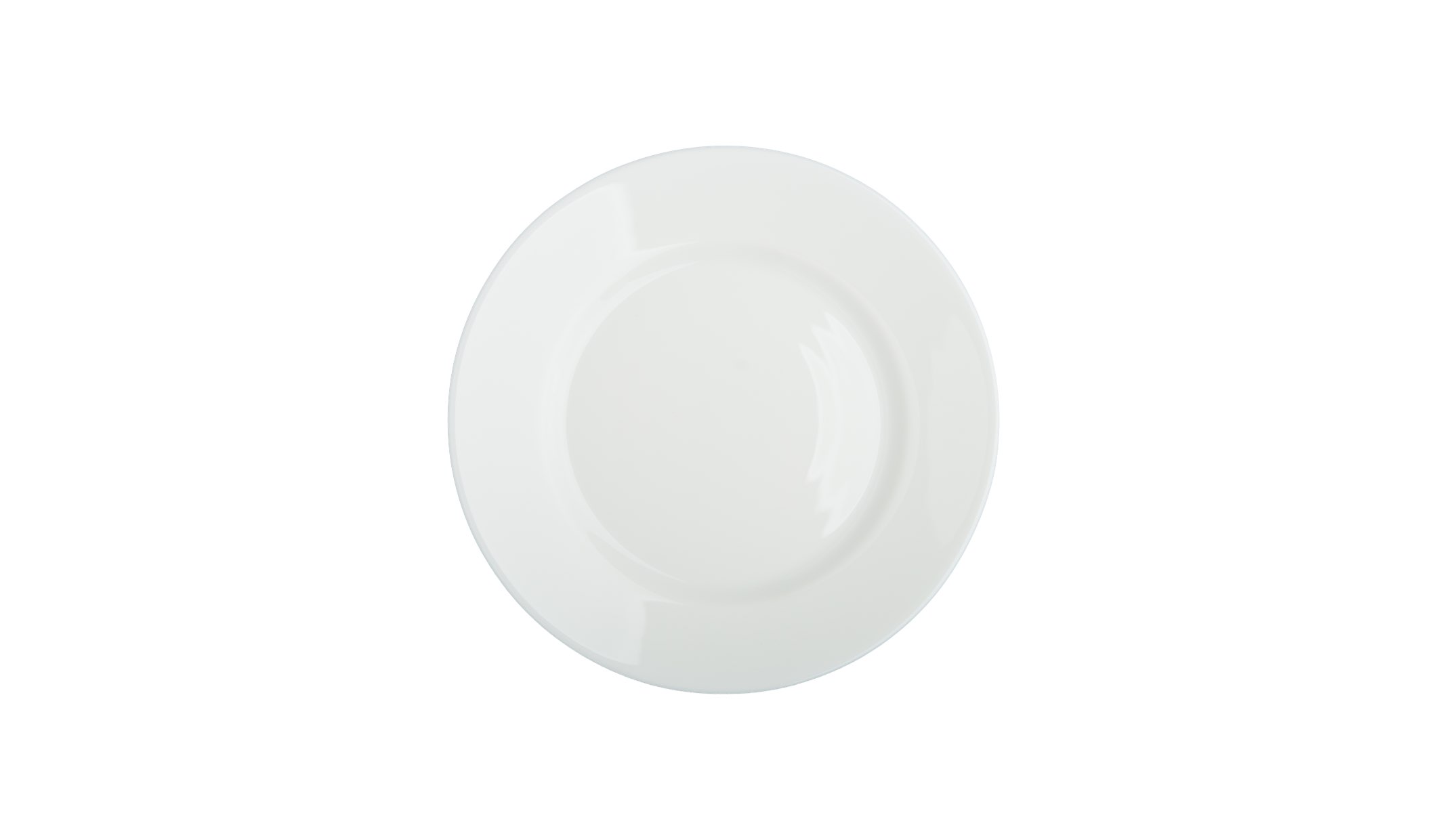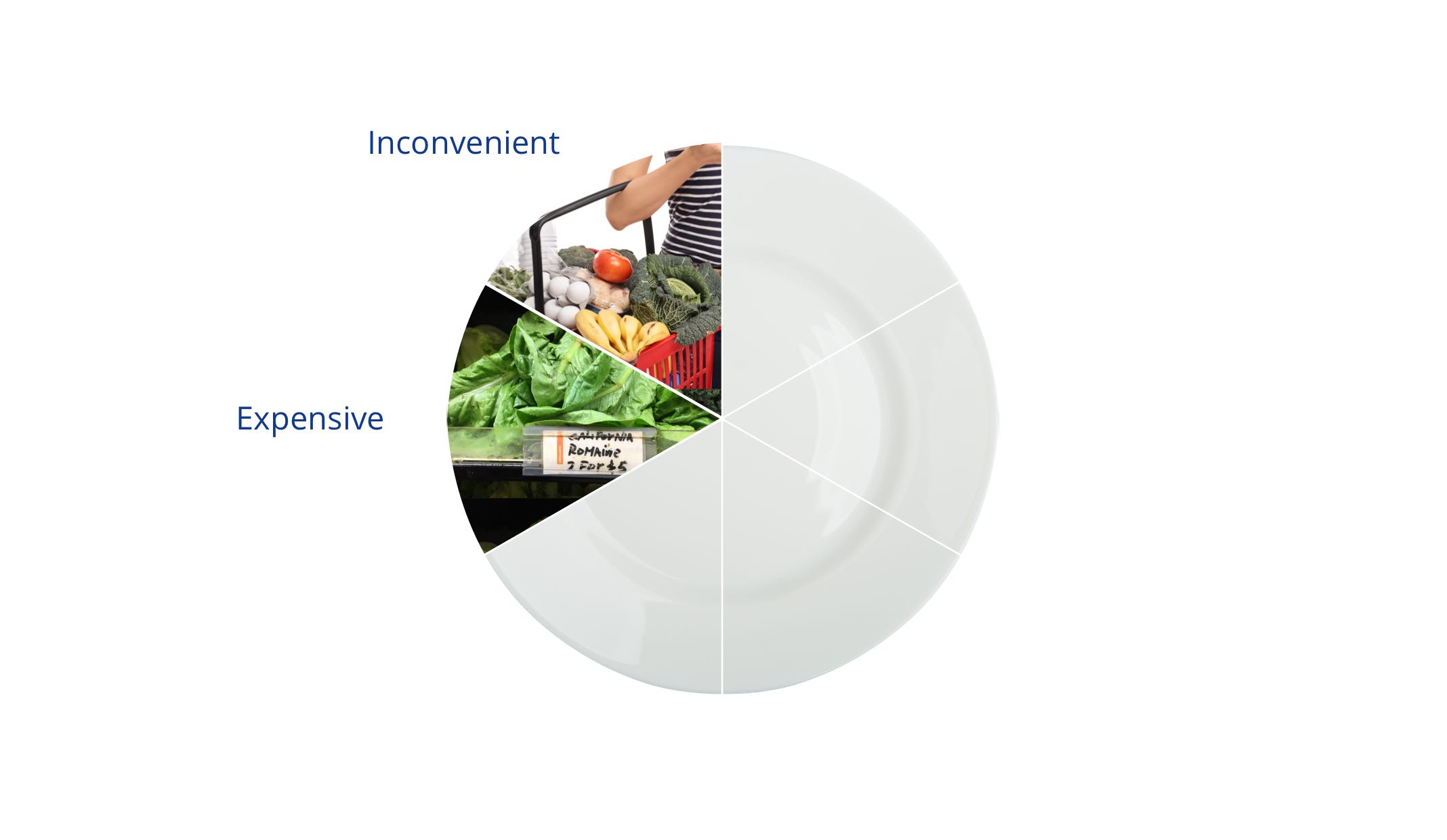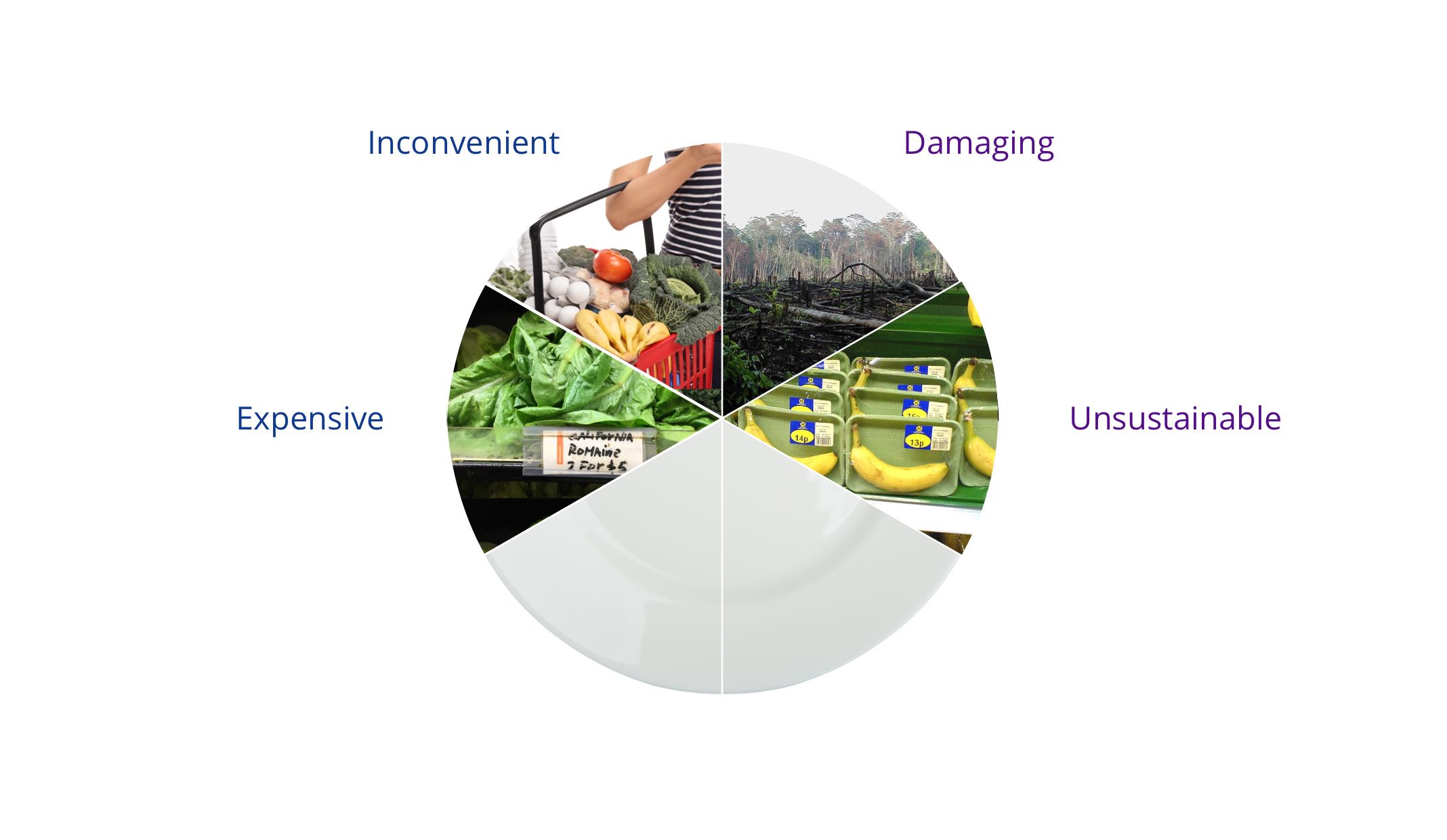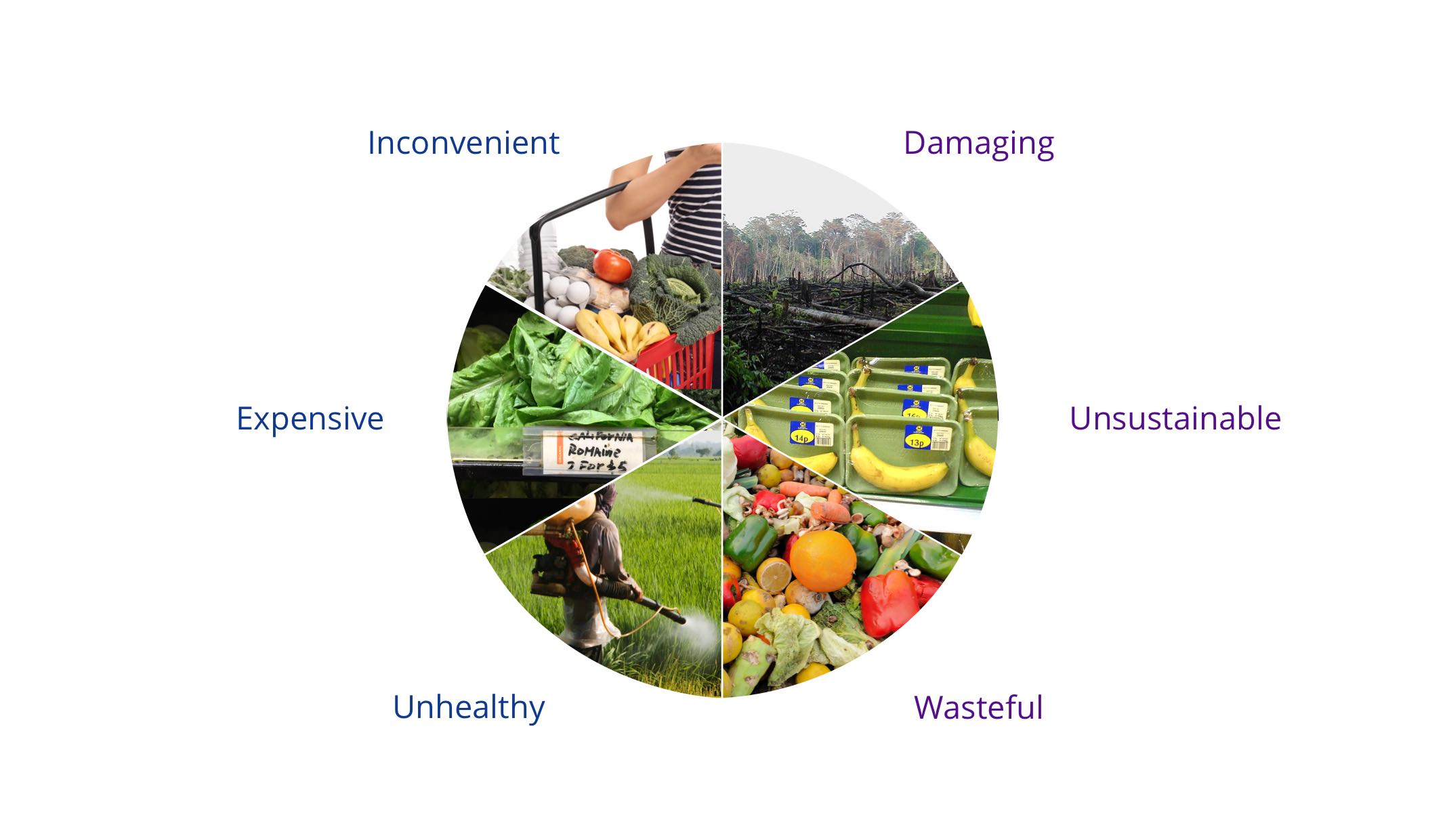 Meanwhile . . . there are plenty of natural resources in urban areas to provide healthy, sustainable and affordable food for all.
Turning neighborhoods into Foodhoods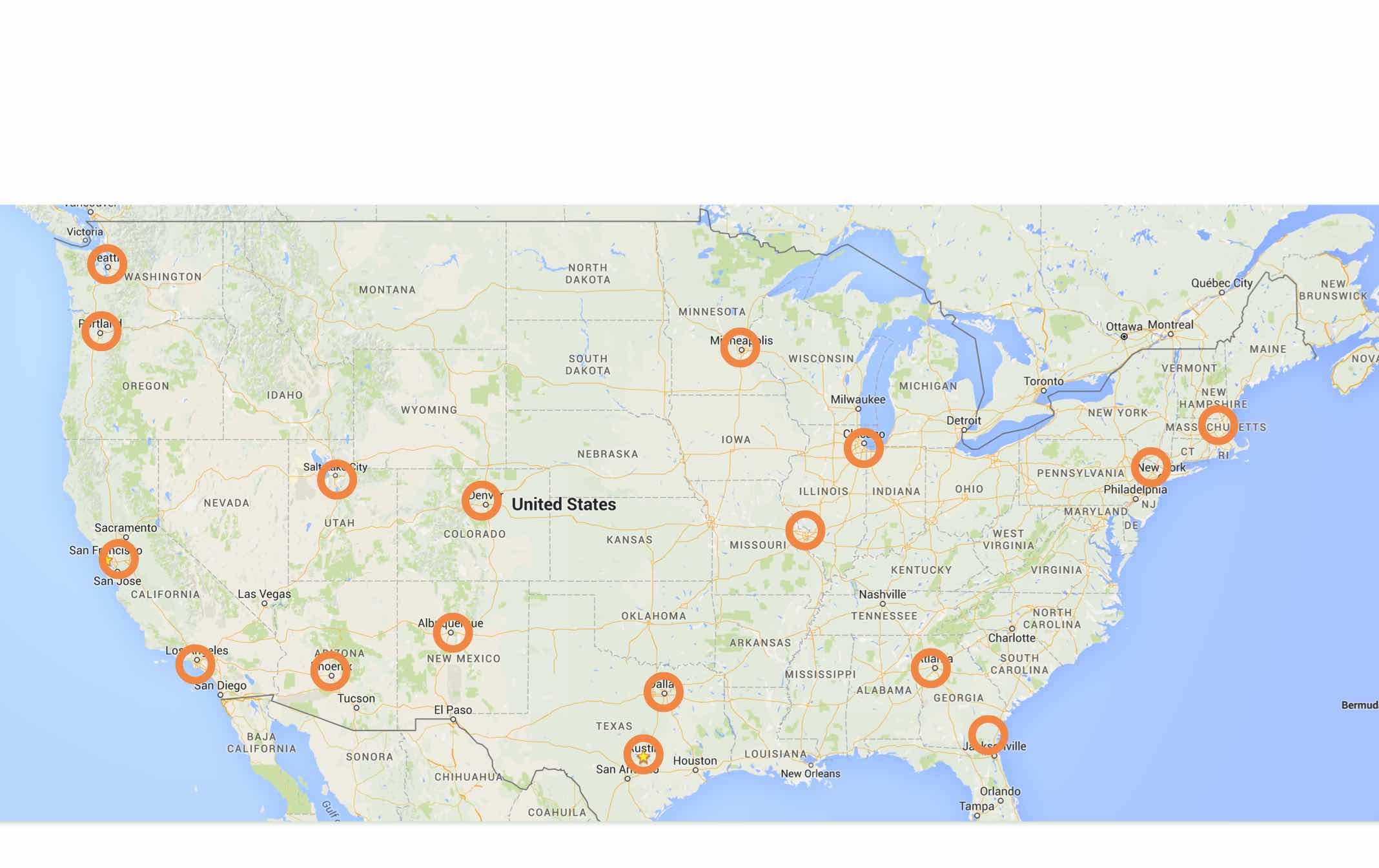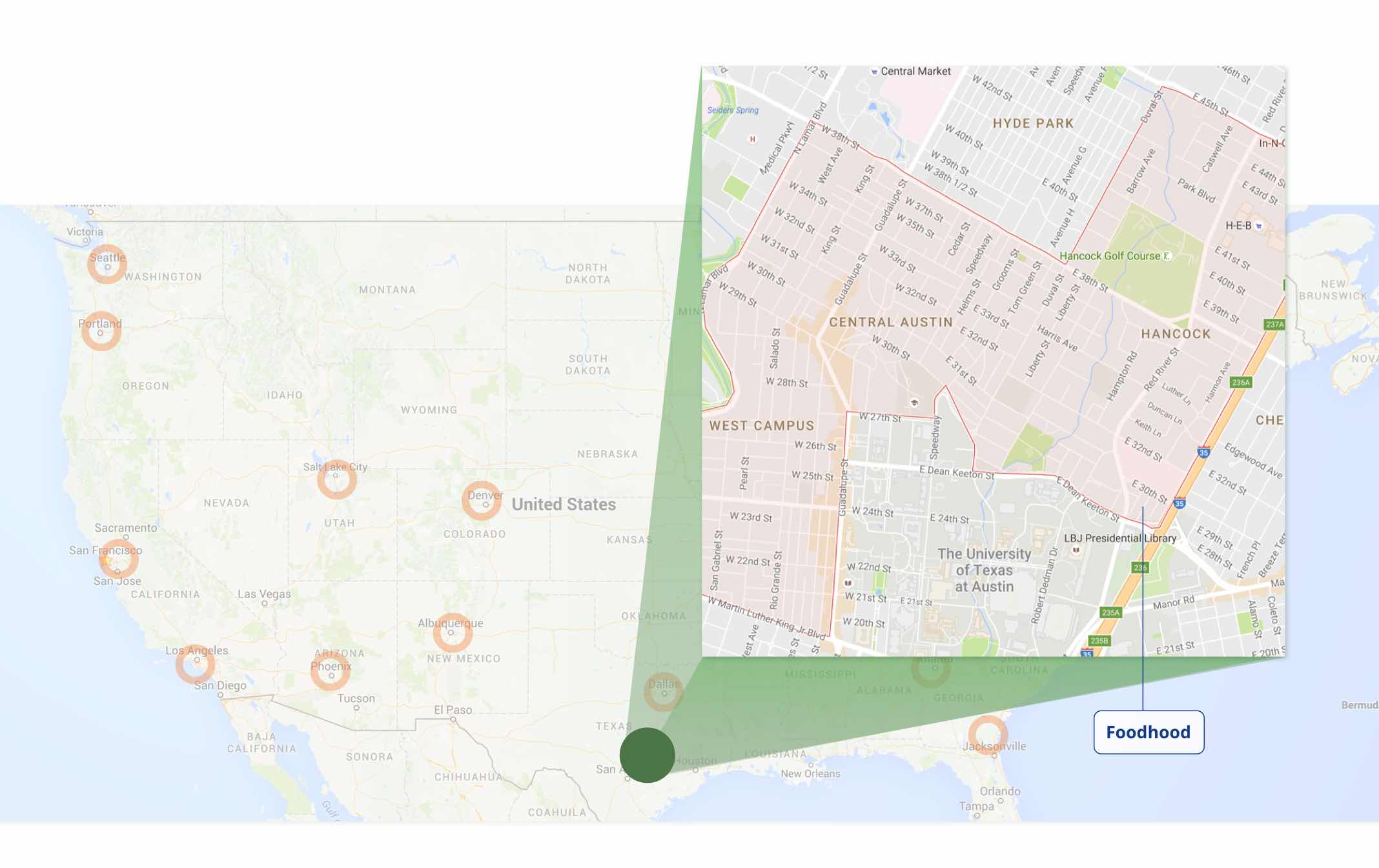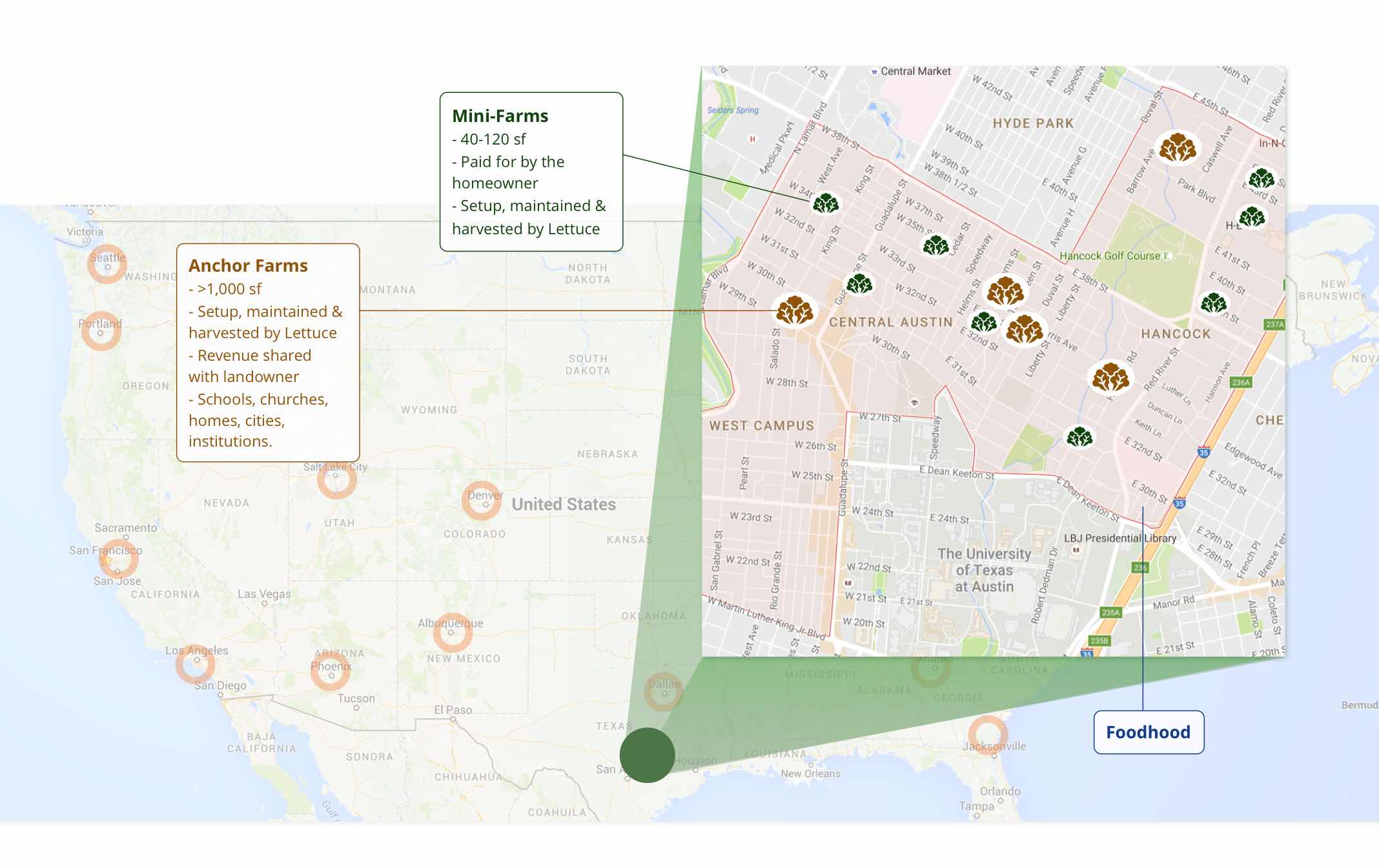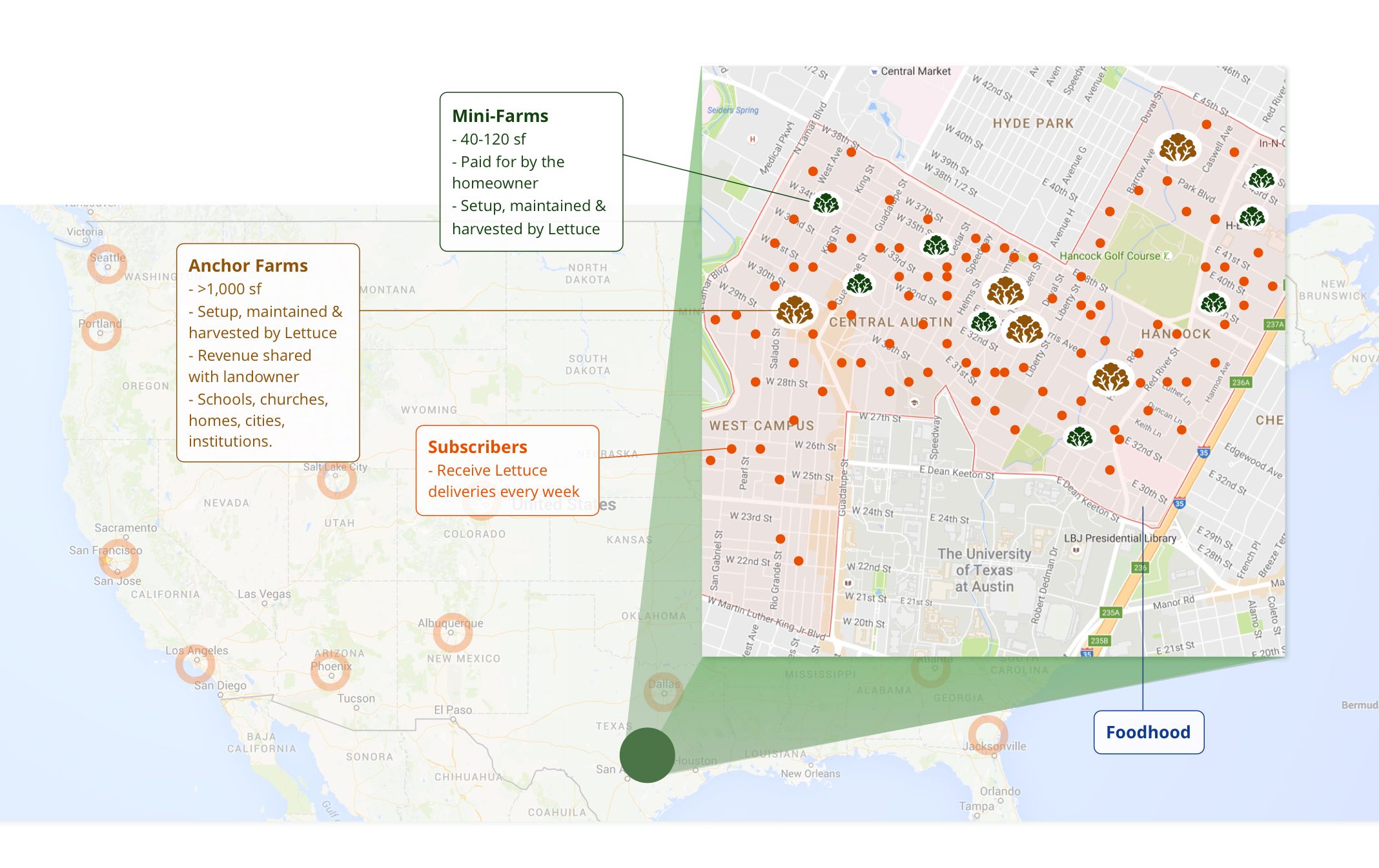 This is a simulation
The Lettuce Austin Network
We are currently growing and delivering in the greater Austin, Texas metropolitan area, including Roundrock, Pflugerville and Cedar Park. Here's a live map of our Austin farm network:
Lettuce Grow, Share and Earn
Have an urban farm/food garden (installed by Lettuce or not) or fruit trees producing more than you can use? Or chickens that lay more eggs than you can eat?
We can include it into the Lettuce network: Harvest what you can't eat, we'll pick it up and deliver it to homes in your neighborhood who want it, and compensate you for it.
This program is in pilot stage. If you'd like to be a part of it, reach out to us:
Anchor Farms
Got more land that you know what to do with, like >1,000 sq. ft. or so? Part of a school, church or business that could benefit from a vegetable garden? Good dirt, full sun and access to water too? We may be able to put an active, lush Lettuce Anchor Farm on it, at our cost - while putting a bit of money in your pocket too.
Lettuce is coming soon to:
San Antonio
Reserve your: